Home » Products
Shopping for Luxury Holiday Gifts & Gets 2010 – II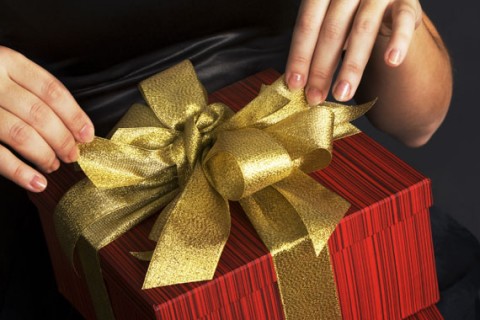 /caption]

Haute Holiday Gift Guide: Finding fabulous holiday gifts for those who seemingly have it all can be a challenge at best. With this in mind, each season I scour the luxury marketplace to uncover new, innovative and otherwise exemplary must haves – the best-of-the-best across a range of product and price categories. My annual Haute Holiday Gift Lists feature a mix of tasteful, trendy, and high quality goods and services – some extravagant, some practical – that are all sure to please the lucky recipient.

Consider this assortment of glam gift ideas:

No matter how good your electronics setup, no home theater experience is complete without a proper lounge chair. BodySound's Single Chair Recliner more than fits the bill, particularly since it has a personal surround sound built right in eliminating the need for in-room loudspeakers! This choice chair is the perfect way to fully enjoy HD entertainment!

With a 7-speaker personalized surround sound system, each seat drives its own audio, giving every user the ability to fine tune the sound characteristics to match their preference. BodySound technology will then automatically adjust the volume to match the users' settings, providing a sound that is both crisp and clear, preserving every detail of audio information. The built-in speaker system coupled to the steel framing construction produces pleasant, full-spectrum vibrations throughout the user's seating area. Users can customize how much or how little they wish to feel.

The BodySound recliner is both wireless and compact, providing full impact, large scale sound in smaller and more challenging spaces.

For the gift giver that wants to leave a lasting impression and say "happy holidays" in a big way. This grand gift basket is filled to the brim with an unparalleled selection of gourmet delights, including chocolates, pretzels, cookies, cheese and other delicious goodies – all packaged in a lovely 21.5″ x 15″ x 16″ dark wicker basket and tied up with a big, festive bow!

This cornucopia of goodness comes complete with four bottles of wine – with mine a Beringer 2007 Cabernet Sauvignon, Williamette Valley 2007 Pinot Noir, Hess 2007 Chardonnay, and a Kenwood Cuvée Brut. With the wine, the basket contains Godiva chocolate biscuits; Collector's tin pretzels; Butter cookies; Focaccia crisps; Caramel popcorn; Snack mix; Chocolate orange cookies; Peppermint popcorn; Ghirardelli Masterpiece chocolates; Vanilla crèmes; and Sonoma creamy jack cheese.

This bountiful basket is a sheer holiday feast that's sure to impress a friend, loved one or colleague.

iHome Audio's iP49 Portable Rechargeable Audio System with Alarm Clock Radio is the quintessential on-the-go stereo sound system for your iPod and iPhone. Presented in a sleek and sophisticated compact folding design with a rechargeable lithium-ion battery, the iP49 is perfectly suited for the traveler who prefers both substance and style.

With 20 watts of quality power and boasting all of the high-end clock radio features found in iHome's award-winning clock radio models, the iP49's built-in docking station allows owners to charge their iPhone or iPod, listen to their music out loud (in stereo quality), and wake to either a custom playlist, FM radio or buzzer – all with 7-5-2 (weekly, daily, weekend) alarm settings.

Patented Bongiovi Acousitcs DPS technology, a breakthrough in audio processing, constantly scans program material in real time and effectively improves transients and harmonics that results in amazing highs, lows and clarity across all frequencies and volume levels. The iP49 also comes with a full functional remote control with menu navigation.
From fruit to assorted fauna, you'll find them all inside Rosy Rings gorgeous botanical candles. With a line inspired by nature, the company's cheery Apple Pear product comes brimming with tart green apple slices, juice pear and pink pepperberries. The result is a stunning home accent piece bursting with delightful fruit fragrance. As the candle burns down the middle the botanicals encased in the wax are gorgeously illuminated. This candle comes in a 6″ diameter that's 9.5″ tall, offering a full 300 hour burn time. Also available with a 5″ diameter at 6.5″ tall with 200 hours of burn time.
Operating with steadfast environmental consciousness, Rosy Rings does its best to operate in with sustainability in mind. The company's manufacturing facility is powered solely by wind energy. The company is also committed to using natural products like beeswax and vegetable waxes, while their glass bottles contain fully 40% recycled glass. In addition to recycling almost all the plastic, metal, glass and cardboard used in its production facility, Rosy Rings also uses biodegradable shipping popcorn and, when possible, reuses shipping materials. Now those are bright ideas!
There's no bigger fashion faux pas than an unsightly bra strap. Luckily, Repeat Possessions offers a fabulous fix that turns everyday apparel into something extraordinary! The company's jeweled detachable "Black Tea" style bra strap is just one of many designs the company offers to eliminate those unsightly "invisible straps" (or, worse, visible regular straps), and actually elevate an ensemble.
The Black Tea jeweled bra strap, which works with any convertible and strapless bra, features hand-selected pink pearls, black beads and Swarovski crystals interspersed with a lovely silver link. Entirely adjustable, these bejeweled straps can also criss-cross for style versatility and can withstand up to 25 lbs of pressure. Indeed, the straps are very sturdy, yet delicate and comfortable on the shoulder. I even went dancing while wearing them and they didn't budge or bother! The straps look tres fab with tanks, off-the-shoulder tops, tube tops and even bathing suits! A great gift for gals who like a little extra bling. Guilty as charged!
***Some or all of the accommodations(s), experience(s), item(s) and/or service(s)
detailed above were provided at no cost and/or sponsored to accommodate this review, but all opinions
expressed are entirely those of Merilee Kern and have not been influenced in any
way as per the disclosure policy on our "Legal" page***