Home » Top Story
Check Out the Gifts & Gets Featured on The Luxe List's YouTube Channel!
(Listed in chronological posting-date order, newest first)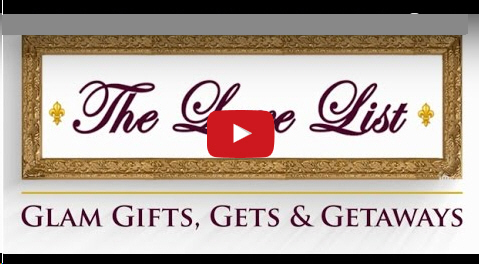 Tile – a 'Lost Item Finder' (TheTileApp.com) – Starting at $25
*** Watch the YouTube video for the above item here.
I cover so much technology and I just love telling Luxe Lister's about things that'll really help out in your daily lives, so today I have a great tool for keeping organized, connected, and stress-free. It's called Tile and it's a tiny and sleek Bluetooth tracker with an accompanying app that helps you keep tabs on all of you, or the entire family¹s, most important belongings. Tile your keys, your purse, your child's favorite toy, the remote control anything you'd never want to misplace or lose. This handy tech allows you to rest easy knowing that the next time something "disappears," Tile can help you find it in no time! Tile works in three ways:  First, you can "ring" the Tile from the app to find items buried wherever they are, even under the couch cushions or wedged between car seats. You can also reverse-ring a misplaced smartphone simply by double-tapping the "e" button on the Tile. Second, when outside of Bluetooth range, you can check the "Last Place Seen" function on a map inside the app, which is essentially an electronic version of you trying to retrace her last steps. Third, you can enlist the entire 4.5 million strong network of Tiles to form a silent, anonymous search party. Tile¹s community is the largest and spans 214 countries and territories around the world.

Whirlpool's EveryDrop PopOut Filter & Pitcher (www.EveryDropWater.com) – $29.99
*** Watch the YouTube video for the above item here.
Whirlpool's EveryDrop PopOut Filter & Pitcher is reported to be the fastest water pitcher on the market, which is great since everyone lives such busy lives now and days. In fact, the company says it filters five times faster than the leading pitcher brand. What's also great is that the filter pops out and is portable, so you can use it to filter water directly into glassware, water bottles at the gym or even baby bottles—any size or style of container whatsoever.  It's also a large capacity pitcher that holds up to 12 cups so that's great, and it's green! Just one of the replaceable filters clarifies enough water to fill 450 plastic water bottles (the ones that are 16.9 ounces in volume), so it'll definitely reduce your environmental footprint that way—plus it's BPA-free. Also, each filter has a "date indicator" inside to let you know when it is time to replace the filter, which you'll need to do every 2 months to maintain optimum performance. The system actually comes with one installed as well as one replacement. So this item lets you easily create clean, fresh and pure water all of the time.

Cabeau's Midnight Magic Sleep Mask (www.Cabeau.com) – $19.99
*** Watch the YouTube video for the above item here. (coming soon)
So I've really started using sleep masks lately, especially when I'm flying during the day. It's a great opportunity to catch a quality cat nap, but I just can't really rest when it's bright. So I found this cool option—the Cabeau's Midnight Magic Sleep Mask, which not only feels silky soft against the skin with its soft velour interior, but it also offers a custom fit since the wearer can choose their preferred level of darkness or light. In fact, the company says it's the first and only sleep mask with an adjustable nose bridge, which allows you to bend and mold the mask to perfectly contour to your unique facial features, guaranteeing 100% blackout if that's what you want. Or, if you prefer a little light, or any amount really, just adjust the nose bridge to rest so that it allows in just a hint of twilight or more brightness at your discretion. You can also get a custom fit with the elastic-free adjustable strap, which also prevents bed head. And, speaking of not messing things up, the rounded eye liners on the inside won't touch your eyelids, so it keeps my makeup intact, which is a big deal—especially when traveling for business. And, in addition to the custom fit, its sleek and lightweight design looks good on everyone.  And, as a bonus, there's this secret little compartment containing high quality memory foam earplugs that come with the mask, perfect for drowning out unwanted ambient noise – and we all know there's plenty of that during air travel.

The GoSleep 2-in-1 Travel Mask/Pillow System (www.GoSleepUSA.com) – $65
*** Watch the YouTube video for the above item here. (coming soon)
Another cool mask option to using during transit is The GoSleep 2 in 1 Travel System, which combines a handy travel-size memory foam pillow with an sleep mask designed to improve upright sleep by preventing the annoying head-bob that all too many travelers are unfortunately accustomed to. I see people all the time struggling to keep their head balanced while they sleep in a chair. It's a 3 step process: First, put the plus GoSleep pillow behind your head. Next, place the mask over your eyes and secure the cord around the headrest. Then just tighten the adjustable toggle for the desired level of comfort. And, the product is really high quality–it's made with premium fabrics and plush memory foam so it'll stand up to the rigors of travel. The pillow is also great for lower back support as well, so it's a great item to have on hand while you're on-the-go.

Pro Energy Towel (www.ProEnergyTowel.com) – $1.99
*** Watch the YouTube video for the above item here.
Speaking of energy, this is a really cool item called the Pro Energy Towel—it's a new category of energy product offering a healthful alternative to high-caffeine, high-sugar drinks and shots. It provides a sense of alertness that can increase both clarity and performance. Combining essential oils with smelling salts, ProEnergy Towel is a pocket-sized, infused, high-grade towel that, when opened, reacts with oxygen to release energizing vapors and also creates a cooling sensation while cleansing the skin.  Smelling salts have been used throughout history to revive and invigorate. They excite the nostrils with aromatic spirits of NH3, creating an inhalation reflex, affecting the pattern of breathing and resulting in improved respiratory flow rates.  The ProEnergy Towel is used by athletes, outdoor enthusiasts, students, do-it-yourselfers, weekend warriors, truck drivers and office workers.

trusource Protien Beverages (www.MyTruSource.com) – $ Varies by product
*** Watch the YouTube video for the above item here.
OK here I have some really great protein boosters for your diet from trusource. Their Protein + Energy powder delivers 15 g of protein per 90-calorie serving along with 75 mg of caffeine from natural sources. It  comes in café-inspired Vanilla Latte and Chocolate Mocha flavors that mix easily in water, milk or milk alternatives. Another trusource item is this Protein Water – it's a light, refreshing ready-to-drink protein beverage, Protein Water delivers 20 g of protein per 80-calorie serving and is available in three fruit flavors – Citrus Splash, Fruit Passion and Blue Raspberry.  They also have a Protein Java ready-to-drink iced coffee beverage with 16 g of protein and caffeine.

Evo Xplorer iPhone 6/6s Case (www.Tech21.com) – $89.95
*** Watch the YouTube video for the above item here.
As the days get hotter, many like to hit the beach or the park for their fitness regime, and  tech21's Evo Xplorer iPhone 6 or 6s case is the must-have item to keep your device safe. Combined with FlexShock technology, the Xplorer is waterproof, sand-proof, dust-proof and drop-proof. The transparent case makes it easy to check for debris while the sealed buttons allow complete access to all functions, including Touch ID. It also has a locking system called SecureClip that keeps the case shut tight, even on impact. Unlike other waterproof cases, sound quality is never compromised with the Xplorer's protection. And it IS completely waterproof up to 9.9 feet AND for up to a hour. The unique FlexShock technology it utilizes will protect your device from drops up to 6.6 feet.  Pretty incredible.

Owlet Baby Monitor (www.OwletCare.com) – $249.99
*** Watch the YouTube video for the above item here.
Peace of mind and a full night's sleep can be rare with new parents. The Owlet Baby Monitor gives you one less thing to worry about by enabling parents to know more about the well-being of their child while they sleep. The Owlet Baby Monitor is the only monitor to use hospital technology called pulse oximetry to monitor a baby's heart rate and oxygen levels. While the child is sleeping if his or her vitals are out of normal range the base station will alert parents to intervene. Vitals collected from the smart sock are also sent to parents via a simple smartphone application, enabling them to check in on their baby from across the hall, or even remotely while they are away from home. The Owlet Monitor comes in three sock sizes. The smart sock will fit your little one until his or her first birthday, and fits most babies up to a year and a half.  The Owlet Baby Monitor is up all night so you don't have to be!

CerumWORX Rejuvenation System (www.DermWORX.com) – $75.00 – $105.00
*** Watch the YouTube video for the above item here.
Here's a super-portable anti-aging skincare option that packs a powerful punch. For those who are starting to see fine lines and wrinkles and want to get back their healthy glow, but don't want to carry heavy and bulky containers of lotions and serums while traveling, the CerumWORX Day & Night serum capsules are a great solution. The super small and lightweight capsules proffer effective and convenient antioxidant therapy for skin renewal and repair. Traditional liquid serums can be oily, messy and quickly degrade, but CerumWORX is a silky cream delivered in convenient single-use capsules that ensure you get fresh Vitamin C every time. CerumWORX Day protects and fortifies with 10% Vitamin C, Biopeptides and Phytonutrients, while CerumWORX Night enhances and restores with Retinol and Resveratrol in Microsponge—a DermWORX global exclusive. Just grab as many capsules as you need for the trip and you're good to go.
***Some or all of the accommodations(s), experience(s), item(s) and/or service(s)
detailed above were provided at no cost and/or sponsored to accommodate this review, but all opinions
expressed are entirely those of Merilee Kern and have not been influenced in any
way as per the disclosure policy on our "Legal" page***